Toyota Land Cruiser

Owners Manual

Interior features » Other interior features

Outside temperature display
The displayed temperature ranges from -22°F (-30°C) up to 122°F (50°C).
Center panel (vehicles with navigation system)
Center panel (vehicles without navigation system)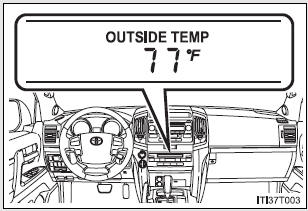 The "ENGINE START STOP" switch is in IGNITION ON mode.
The system may be malfunctioning. Take your vehicle to your Toyota dealer.
In the following situations, the correct outside temperature may not be displayed, or the display may take longer than normal to change.
When stopped, or driving at low speeds (less than 12 mph [20 km/h])
When the outside temperature has changed suddenly (at the entrance/ exit of a garage, tunnel, etc.)
More about «Other interior features»:
Outside temperature display