Toyota Land Cruiser

Owners Manual

Interior features » Other interior features

Clock
Refer to "Navigation System Owner's Manual".
Without navigation system
The clock can be adjusted by pressing the buttons.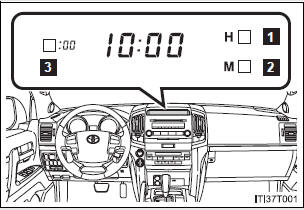 Adjust hours.
Adjust minutes.
Round the nearest hour.*
*:e.g. 1:00 to 1:29→1:00 1:30 to 1:59→2:00
The clock is displayed when
The "ENGINE START STOP" switch is in ACCESSORY or IGNITION ON mode.
When the battery is disconnected
The time display will automatically be set to 1:00.
More about «Other interior features»:
Clock