Toyota Land Cruiser

Service Manual

Suspension & Axle

Tire and wheel
INSPECTION
1. INSPECT TIRE
(a) Check the tires for wear and proper inflation pressure.
Cold tire inflation pressure:

*: Trailer towing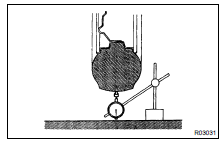 (b) Check the tire runout.
Tire runout: 3.0 mm (0.118 in.) or less
2. ROTATE TIRE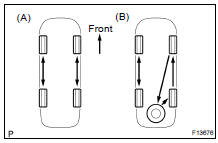 HINT:
Rotate tires as shown in the illustration.
Rotate as shown in (B) if the spare tire is included in the rotation.
3. INSPECT WHEEL BALANCE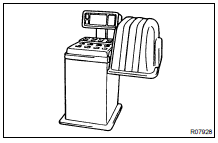 (a) Check and adjust the Off-the car balance.
(b) If necessary, check and adjust the On-the car balance.
Imbalance after adjustment: 14.0 g (0.031 Ib) or less
4. CHECK FRONT SUSPENSION FOR LOOSENESS
5. CHECK STEERING LINKAGE FOR LOOSENESS
6. CHECK BALL JOINT FOR LOOSENESS
7. CHECK SHOCK ABSORBER WORKS PROPERLY
Check that oil leaks
Check the mounting bushings for wear
Bounce front and rear of the vehicle
More about «Suspension & Axle»:
Tire and wheel