Toyota Land Cruiser

Service Manual

Steering » Power steering vane pump

Replacement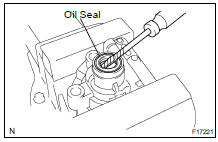 NOTICE: When using a vise, do not overtighten it.
IF NECESSARY, REPLACE OIL SEAL
(a) Using a screwdriver with vinyl tape wound around its tip, remove the oil seal.
NOTICE: Be careful not to damage the front housing.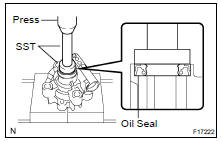 (b) Coat a new oil seal lip with power steering fluid.
(c) Using SST, press in the oil seal.
SST 09950-60010 (09951-00280), 09950-70010 (09951-07100)
NOTICE: Make sure to install the oil seal facing the correct direction.
More about «Power steering vane pump»:
Replacement