Toyota Land Cruiser

Service Manual

Steering » Power steering vane pump

Installation
1. INSTALL PS VANE PUMP ASSEMBLY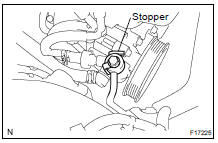 Torque the 3 bolts.
Torque: 17 N·m (175 kgf·cm, 13 ft·lbf)
2. INSTALL PRESSURE FEED TUBE
Install new gaskets on each side of the tube and torque the union bolt.
Torque: 50 N·m (510 kgf·cm, 37 ft·lbf)
HINT: Make sure that the stopper of the tube touches the PS vane pump body as shown in the illustration, then torque the bolt.
3. CONNECT RETURN HOSE
Install the clip.
4. CONNECT 2 VACUUM HOSES
Install the 2 clips.
5. INSTALL DRIVE BELT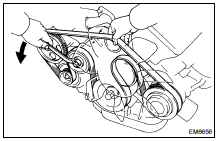 Loosen the drive belt tension by turning the drive belt tensioner counterclockwise, and install the belt.
6. INSTALL AIR CLEANER ASSEMBLY WITH AIR CLEANER HOSE
(a) Tighten the 3 bolts.
(b) Tighten the clamp.
(c) Connect the hose.
(d) Connect the MAF meter connector.
7. INSTALL NO. 2 ENGINE UNDER COVER
Tighten the 8 bolts.
8. INSTALL NO. 1 ENGINE UNDER COVER
Tighten the 6 bolts.
9. BLEED POWER STEERING SYSTEM ( SR-4 )
More about «Power steering vane pump»:
Installation