Toyota Land Cruiser

Service Manual

Steering » Power steering vane pump

Removal
1. REMOVE NO. 1 ENGINE UNDER COVER
Remove the 6 bolts.
2. REMOVE NO. 2 ENGINE UNDER COVER
Remove the 8 bolts.
3. REMOVE AIR CLEANER ASSEMBLY WITH AIR CLEANER HOSE
(a) Disconnect the MAF meter connector.
(b) Disconnect the hoses.
(c) Loosen the clamp.
(d) Remove the 3 bolts.
4. REMOVE DRIVE BELT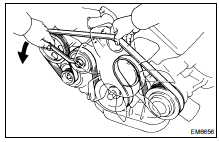 Loosen the drive belt tension by turning the drive belt tensioner counterclockwise, and remove the drive belt.
5. DISCONNECT 2 VACUUM HOSES
Remove the 2 clips.
6. DISCONNECT RETURN HOSE
Remove the clip.
7. REMOVE PRESSURE FEED TUBE
Remove the union bolt and 2 gaskets.
8. REMOVE PS VANE PUMP ASSEMBLY
Remove the 3 bolts.
More about «Power steering vane pump»:
Removal