Toyota Land Cruiser

Service Manual

Steering » Power steering vane pump

Disassembly
1. FIX VANE PUMP ASSEMBLY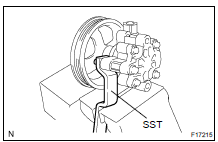 Using SST, hold the vane assembly in a vise.
SST 09630-00014 (09631-00132)
2. MEASURE PS VANE PUMP ROTATING TORQUE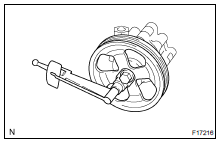 (a) Check that the pump rotates smoothly without abnormal noise.
(b) Temporarily install the bolt to the shaft.
(c) Using a torque wrench, check the pump rotating torque.
Rotating torque: 0.3 N·m (2.8 kgf·cm, 2.4 in.·lbf) or less
3. REMOVE SUCTION PORT UNION
(a) Remove the bolt.
(b) Remove the O-ring from the union.
4. REMOVE PRESSURE PORT UNION, FLOW CONTROL VALVE AND SPRING
Remove the O-ring from the union.
5. REMOVE REAR HOUSING
(a) Loosen the 4 bolts.
(b) Remove the vane pump assembly from the SST.
(c) Remove the 4 bolts and rear housing.
(d) Remove the gasket from the housing.
6. REMOVE CAM RING, 10 VANE PLATES AND VANE PUMP ROTOR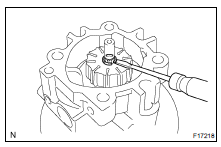 Using a screwdriver, remove the snap ring from the vane pump shaft.
NOTICE: Be careful not to drop the plate.
7. REMOVE SIDE PLATE
8. REMOVE VANE PUMP SHAFT WITH PUMP PULLEY
More about «Power steering vane pump»:
Disassembly