Toyota Land Cruiser

Owners Manual

Before driving » Adjustable components (seats, mirrors, steering wheel)

Steering wheel
The steering wheel can be adjusted to a comfortable position while the "ENGINE START STOP" switch is in ACCESSORY or IGNITION ON mode.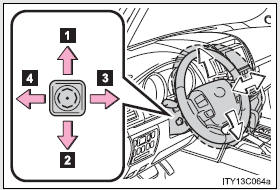 Up
Down
Toward the driver
Away from the driver
Auto tilt away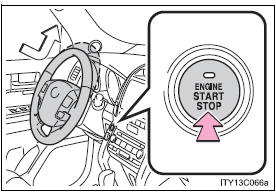 When the "ENGINE START STOP" switch is OFF, the steering wheel returns to its stowed position by moving up and away to enable easier driver entry and exit.
Switching to ACCESSORY or IGNITION ON mode will return the steering wheel to the original position.
One-touch adjustment of the steering position
A desired steering position can be entered to memory and recalled automatically by the driving position memory.
CAUTION
Do not adjust the steering wheel.
Doing so may cause the driver to mishandle the vehicle and an accident, resulting in death or serious injury.
More about «Adjustable components (seats, mirrors, steering wheel)»:
Steering wheel