Toyota Land Cruiser

Owners Manual

Before driving » Adjustable components (seats, mirrors, steering wheel)

Outside rear view mirrors
Mirror angle can be adjusted.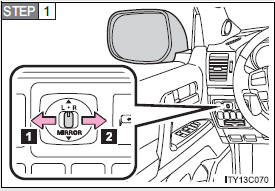 Select a mirror to adjust
Left
Right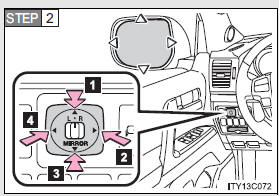 Adjust the mirror
Up
Right
Down
Left
Folding back the mirrors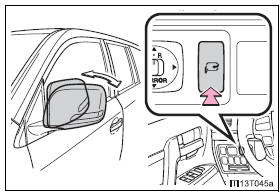 Press the switch
Pressing again will extended the mirrors.
Mirror angle can be adjusted when
The "ENGINE START STOP" switch is in ACCESSORY or IGNITION ON mode.
When the mirrors are fogged up
The outside rear view mirrors can be cleared using the mirror defoggers.
Turn on the rear window defogger to turn on the outside rear view mirror defoggers.
When the anti-glare inside rear view mirror is set to auto mode, the outside rear view mirrors will activate in conjunction with the anti-glare inside rear view mirror to reduce reflected light.
Linked mirror function when reversing
When the mirror select switch is in the "L" or "R" position, the outside rear view mirrors will automatically angle downwards when the vehicle is reversing in order to give a better view of the ground. To disable this function, move the mirror select switch to the neutral position (between "L" and "R").
One-touch adjustment of the mirror angle
A desired mirror face angle can be entered to memory and adjusted with the touch of a button.
CAUTION
Observe the following precautions.
Failing to do so may result in losing control of the vehicle and cause an accident, resulting in death or serious injury.
Do not adjust the mirrors.
Do not drive with the mirrors folded back.
Before driving, be sure to extend mirrors and make an adjustment properly.
To avoid personal injury and mirror malfunction, be careful not to get your hand caught by the moving mirror.
When the mirror defoggers are operating
Do not touch the rear view mirror surfaces, as they can become very hot and burn you.
NOTICE
If ice should jam the mirror
Do not operate the control or scrape the mirror face. Use a spray de-icer to free the mirror.
More about «Adjustable components (seats, mirrors, steering wheel)»:
Outside rear view mirrors