Toyota Land Cruiser

Service Manual

Air conditioning » Compressor and magnetic clutch

Reassembly
Reassembly is in the reverse of disassembly (AC-63 ).
AFTER REASSEMBLY, CHECK MAGNETIC CLUTCH CLEARANCE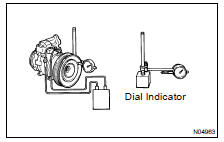 (a) Set the dial indicator to the pressure plate of the magnetic clutch.
(b) Connect the magnetic clutch lead wire to the battery positive (+) terminal.
(c) Check the clearance between the pressure plate and rotor when connecting the negative (-) terminal to the battery.
Standard clearance: 0.5 +- 0.15 mm (0.020 +- 0.0059 in.)
If the clearance is not within the standard clearance, adjust the clearance using shims to obtain the standard clearance.
Shim thickness: 0.1 mm (0.004 in.) 0.3 mm (0.012 in.) 0.5 mm (0.020in.)
More about «Compressor and magnetic clutch»:
Reassembly