Toyota Land Cruiser

Service Manual

Air conditioning Ľ Compressor and magnetic clutch

Installation
1. INSTALL COMPRESSOR
(a) Install the compressor with 3 bolts.
Torque: 49 N·m (500 kgf·cm, 36 ft·lbf)
(b) Connect the connector.
2. INSTALL FRONT DRIVE SHAFT LH (SA-33 )
3. CONNECT DISCHARGE AND SUCTION HOSES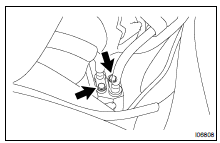 (a) Lubricate 2 new O-rings with compressor oil and install them to the hoses.
(b) Connect the both hoses with 2 bolts.
Torque: 10 N·m (100 kgf·cm, 7 ft·lbf)
NOTICE: Hose should be connected immediately after the caps have been removed.
4. INSTALL AND CHECK DRIVE BELT (AC-17 and AC-15 )
5. CONNECT NEGATIVE (-) TERMINAL CABLE TO BATTERY
6. EVACUATE AIR FROM REFRIGERATION SYSTEM AND CHARGE SYSTEM WITH REFRIGERANT
Specified amount: 1,050 +- 50 g (37.03 +- 1.76 oz.)
7. INSPECT FOR LEAKAGE OF REFRIGERANT
Using a gas leak detector, check for leaks of the refrigerant.
If there is a leakage, check the tightening torque at the joints.
8. INSPECT A/C OPERATION
More about ęCompressor and magnetic clutchĽ:
Installation