Toyota Land Cruiser

Service Manual

Brake

Proportioning and By-pass valve (P & B valve)
ON-VEHICLE INSPECTION
1. INSTALL LSPV GAUGE (SST) AND BLEED AIR
(a) Turn the ignition switch OFF, depress the brake pedal more than 40 times.
(b) Install the LSPV gauge (SST) and bleed air.
SST 09709-29018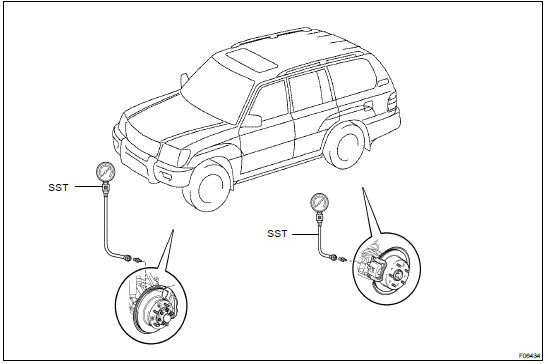 (c) Turn the ignition switch ON, and wait until the pump motor has stopped.
2. RAISE FRONT BRAKE CALIPER PRESSURE AND CHECK REAR BRAKE CALIPER PRESSURE
Depress the brake pedal and check fluid pressure.

If the rear brake caliper pressure is incorrect, replace the hydraulic brake booster.
3. REMOVE LSPV GAUGE (SST) AND BLEED BRAKE SYSTEM ( BR-4 )
4. CHECK FOR FLUID LEAKAGE
More about «Brake»:
Proportioning and By-pass valve (P & B valve)