Toyota Land Cruiser

Service Manual

SFI » Seat position sensor assembly

Removal
NOTICE:
Do not open the cover or the case of the ECU and various electrical devices unless absolutely necessary.

(If the IC terminals are touched, the IC may be destroyed by static electricity.)

If the wiring connector of the SRS is disconnected and the ignition switch is at ON position, DTCs will be recorded.
1. REMOVE FRONT SEAT ASSEMBLY (DRIVER SIDE) (BO-105 )
2. REMOVE SEAT POSITION SENSOR ASSEMBLY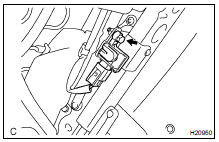 (a) Remove the bolt and seat position sensor assembly.
(b) Disconnect the connector.
More about «Seat position sensor assembly»:
Removal