Toyota Land Cruiser

Service Manual
CAUTION: Do not smoke or work near an open frame when working the fuel pump.
1. REMOVE NO.1 REAR SEATS
2. REMOVE REAR DOOR SCUFF PLATES, STEP
PLATES AND REAR SEAT LOCK COVERS
3. REMOVE REAR FLOOR SERVICE HOLE COVER
(a) Take off the front and rear floor carpets.
(b) Remove the 2 screws and rear floor service hole cover.
4. DISCONNECT FUEL PUMP & SENDER GAUGE CONNECTOR
5. DISCONNECT FUEL MAIN TUBE AND RETURN TUBE (FUEL TUBE CONNECTORS) FROM FUEL SUCTION PLATE
CAUTION:
Perform disconnecting operation of the fuel tube connector (quick type) after reading the precautions.

(SF-1 )

Prevent the retained pressure in the fuel line from splashing inside the vehicle compartment.
Be careful not to damage the contact surface or let the foreign matters on there when sealing the tube and the suction plates with the quick connectors through O-ring.
Be sure to perform the disconnection by hand. Do not use tools.
Do not bend or turn the nylon tube by force.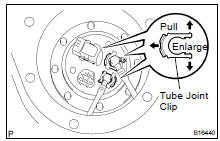 (a) Before the operation, remove foreign matters or dirt sticking to the tube joint clips.
(b) Enlarge the tip of the clips with fingers and pull them out for disconnection.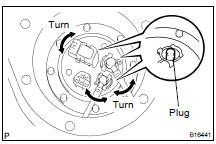 (c) Pull out the fuel main tube and the return tube.
If the nylon tube and the suction plate stick together, ease the connection by turning the nylon tube with fingers and pull it out for disconnection.
NOTICE: Plug the port of the fuel suction plate with a clean rubber cap.
(d) After the disconnection, protect the connector with a plastic bag.
6. REMOVE FUEL PUMP AND SENDER GAUGE ASSEMBLY FROM FUEL TANK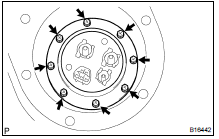 (a) Remove the 8 bolts.
(b) Pull out the fuel pump and the sender gauge assembly.
NOTICE:
Do not damage the fuel pump filter.
Be careful that the arm of the sender gauge should not bent.
(c) Remove the gasket from the fuel section plate.
7. REMOVE LEAD WIRE FROM FUEL PUMP
8. REMOVE FUEL PUMP FROM FUEL PUMP BRACKET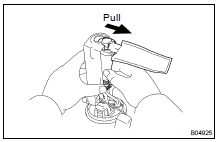 (a) Pull out the lower side of the fuel pump from the pump bracket.
(b) Disconnect the fuel hose from the fuel pump, and remove the fuel pump.
(c) Remove the rubber cushion from the fuel pump.
9. REMOVE FUEL PUMP FILTER FROM FUEL PUMP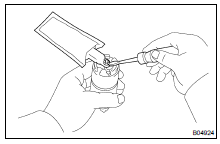 (a) Using a small screwdriver, remove the clip.
(b) Pull out the pump filter.
More about «Fuel pump»:
Removal