Toyota Land Cruiser

Service Manual

SFI » Fuel pump

Installation
1. INSTALL FUEL PUMP FILTER TO FUEL PUMP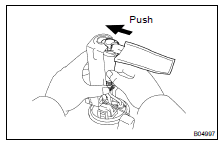 Install the pump filter with a new clip.
2. INSTALL FUEL PUMP TO FUEL PUMP BRACKET
(a) Install the rubber cushion to the fuel pump.
(b) Connect the fuel hose to the outlet port of the fuel pump.
(c) Install the fuel pump by pushing the lower side of the fuel pump.
3. INSTALL LEAD WIRE TO FUEL PUMP
4. INSTALL FUEL PUMP AND SENDER GAUGE ASSEMBLY TO FUEL TANK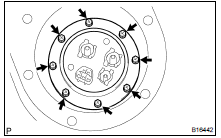 (a) Install a new gasket to the fuel suction plate.
(b) Insert the fuel pump and the sender gauge assembly into the fuel tank.
(c) Install the fuel tank vent tube set plate with the 8 bolts.
Torque: 3.5 N·m (35 kgf·cm, 31 in.·lbf)
5. CONNECT FUEL MAIN TUBE AND RETURN TUBE (FUEL TUBE CONNECTORS) TO FUEL SUCTION PLATE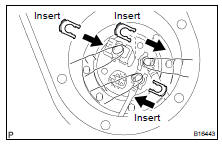 (a) Before installing the tube connectors, check foreign matters on the connection between the nylon tube and the suction plate.
(b) Attach the fuel tube connectors to the ports of the fuel suction plate and insert the clips until you hear a click.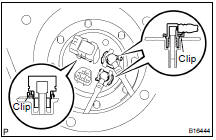 (c) After the connection, pull out the clips to check to see that they are installed securely.
6. CONNECT FUEL PUMP & SENDER GAUGE CONNECTOR
7. CHECK FOR FUEL LEAKS (SF-1 )
8. INSTALL REAR FLOOR SERVICE HOLE COVER
(a) Install the rear service hole cover with the 2 screws.
(b) Cover the rear and front floor carpets.
9. INSTALL REAR DOOR SCUFF PLATES, STEP PLATES AND REAR SEAT LOCK COVERS
10. INSTALL NO.1 REAR SEATS
More about «Fuel pump»:
Installation