Toyota Land Cruiser

Service Manual

Cooling » Thermostat

Removal
HINT: Removal of the thermostat would have an adverse effect, causing a lowering of cooling efficiency. Do not remove the thermostat, even if the engine tends to overheat.
1. DRAIN ENGINE COOLANT
2. DISCONNECT WATER INLET FROM WATER INLET HOUSING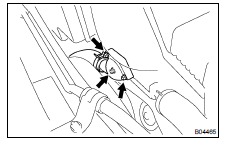 Remove the 3 nuts and disconnect the water inlet from the water inlet housing.
3. REMOVE THERMOSTAT
(a) Remove the thermostat.
(b) Remove the gasket from the thermostat
More about «Thermostat»:
Removal