Toyota Land Cruiser

Service Manual

Cooling » Thermostat

Installation
1. PLACE THERMOSTAT IN WATER INLET HOUSING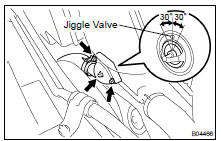 (a) Install a new gasket to the thermostat.
(b) Insert the thermostat into the water inlet housing with the jiggle valve facing straight upward.
HINT: The jiggle valve may be set within 30 of either side of the prescribed position.
2. INSTALL WATER INLET
Install the water inlet with the 3 nuts.
Torque: 19 N·m (195 kgf·cm, 14 ft·lbf)
3. FILL WITH ENGINE COOLANT
4. START ENGINE AND CHECK FOR COOLANT LEAKS
5. RECHECK ENGINE COOLANT LEVEL
More about «Thermostat»:
Installation