Toyota Land Cruiser

Service Manual

Charging » Generator

Removal
1. DRAIN ENGINE COOLANT (CO-2 )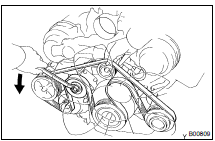 2. REMOVE GENERATOR DRIVE BELT
Loosen the belt tension by turning the belt tensioner counterclockwise, and remove the drive belt.
HINT: The pulley bolt for the belt tensioner has a left - hand thread.
3. REMOVE ENGINE UNDER COVER NO.1
4. REMOVE RADIATOR ASSEMBLY (CO-17 )
5. REMOVE PS VANE PUMP PULLEY (SR-40 )
6. REMOVE GENERATOR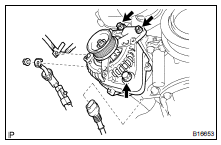 (a) Disconnect the generator connector.
(b) Remove the rubber cap and nut, and disconnect the generator wire.
(c) Disconnect the generator wire clamp from the cord clip on the generator.
(d) Remove the bolt, 2 nuts and generator.
More about «Generator»:
Removal