Toyota Land Cruiser

Service Manual

Charging » Generator

Installation
1. INSTALL GENERATOR
(a) Install the generator with the bolt and 2 nuts.
Torque: Bolt: 39 N·m (400 kgf·cm, 29 ft·lbf) Nut 10 mm: 39 N·m (400 kgf·cm, 29 ft·lbf) Nut 8 mm: 15.5 N·m (158 kgf·cm, 11 ft·lbf)
(b) Connect the generator connector.
(c) Connect the generator wire with the nut.
Torque: 9.8 N·m (100 kgf·cm, 87 in.·lbf)
(d) Install the terminal cap.
(e) Install the wire clamp to the cord clip on the generator.
2. INSTALL PS VANE PUMP PULLEY (SR-47 )
3. INSTALL RADIATOR ASSEMBLY (CO-19 )
4. INSTALL GENERATOR DRIVE BELT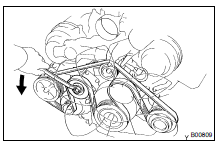 Install the belt by turning the belt tensioner counterclockwise.
HINT: The pulley bolt for the belt tensioner has a left - hand thread.
5. FULL ENGINE COOLANT
6. START ENGINE AND CHECK FOR LEAKS
7. RECHECK ENGINE COOLANT LEVEL
8. PERFORM ON-VEHICLE INSPECTION
(CH-2 )
9. INSTALL ENGINE UNDER COVER NO.1
More about «Generator»:
Installation