Toyota Land Cruiser

Service Manual

Suspension & Axle » Front shock absorber

Removal
1. REMOVE FRONT WHEEL
Torque: 131 N·m (1,340 kgf·cm, 97 ft·lbf)
2. REMOVE FRONT FENDER APRON
3. REMOVE SHOCK ABSORBER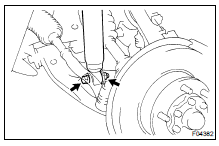 (a) Remove the bolt, nut and disconnect the shock absorber from the lower suspension arm.
Torque: 135 N·m (1,400 kgf·cm, 100 ft·lbf)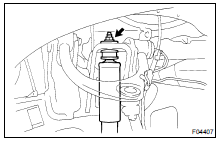 (b) While holding the piston rod, remove the nut, cushion, retainer and shock absorber.
Torque: 68 N·m (700 kgf·cm, 50 ft·lbf)
(c) Remove the cushion and retainer from the shock absorber.
More about «Front shock absorber»:
Removal