Toyota Land Cruiser

Service Manual

Suspension & Axle » Front shock absorber

Inspection
INSPECT SHOCK ABSORBER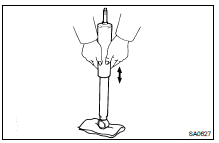 Compress and extend the shock absorber rod and check that there is no abnormal resistance or unusual operation sounds.
If there is any abnormality, replace the shock absorber with a new one.
NOTICE: When disposing the shock absorber, see DISPOSAL on page SA-63 .
INSTALLATION
Installation is in the reverse order of removal (SA-61 ).
More about «Front shock absorber»:
Inspection