Toyota Land Cruiser

Service Manual

Brake » Hydraulic brake booster

Reassembly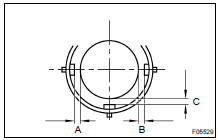 Reassembly is in the reverse order of disassembly ( BR-62 ).
INSTALL ACCUMULATOR BRACKET
When installing the accumulator bracket, adjust to secure the clearance shown in the illustration on the left.
Standard clearance:
A + B: 4.1 mm (0.161 in.) or less C: 0.3 - 3.8 mm (0.012 - 0.150 in.)
HINT: Secure more than 0.3 mm (0.012 in.) clearance for A and B each.
More about «Hydraulic brake booster»:
Reassembly