Toyota Land Cruiser

Service Manual

Brake » Hydraulic brake booster

Inspection
INSPECT HYDRAULIC BRAKE BOOSTER PUMP MOTOR OPERATION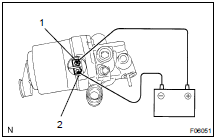 (a) Connct the positive (+) lead from the battery to terminal 1 of pump motor, and the negative (-) lead to terminal 2.
(b) Check that the pump motor operation.
INSTALLATION
Installation is in the reverse order of removal ( BR-60 ).
HINT: After installation, fill the brake reservoir with brake fluid and bleed brake system ( BR-4 ).
Check for leaks.
More about «Hydraulic brake booster»:
Inspection