Toyota Land Cruiser

Service Manual

SFI » Front airbag sensor

Installation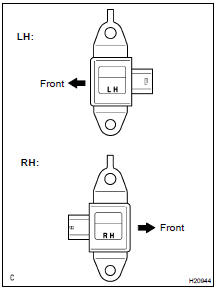 NOTICE:
Never use SRS parts from another vehicle. When replacing parts, replace them with new parts.
Never reuse the sensor involved in a collision when the SRS has deployed.
Never repair a sensor in order to reuse it.
1. INSTALL FRONT AIRBAG SENSOR
(a) Install the front airbag sensor with the arrow on the sensor facing toward the front of the vehicle.
Torque: 7.5 N·m (76 kgf·cm, 66 in.·lbf)
NOTICE:
Make sure that the sensor is installed with the specified torque.
If the sensor has been dropped, or there are cracks, dents or other defects in the case, brackets or connector, replace the removed sensor with a new one.
The front sensor is equipped with an electrical connection check mechanism. Be sure to lock this mechanism securely when connecting the connector. If the connector is not securely locked, a malfunction code will be detected by the diagnostic system.
(b) Connect the front airbag sensor connector.
2. INSTALL BATTERY AND BATTERY CARRIER
3. INSPECT SRS WARNING LIGHT (DI-692 )
More about «Front airbag sensor»:
Installation