Toyota Land Cruiser

Service Manual

Suspension & Axle » Rear axle shaft

Inspection
INSPECT AXLE SHAFT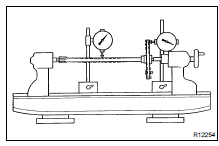 Using a dial indicator, measure the runout of the shaft and flange.
Maximum shaft runout: 2.0 mm (0.079 in.) Maximum flange runout: 0.05 mm (0.0020 in.)
If the rear axle shaft or flange are damaged or worn, or if runout is greater than the maximum, replace the rear axle shaft.
INSTALLATION
Installation is in the reverse order of removal (SA-84 ).
HINT: After installation, fill the brake reservoir with brake fluid, bleed the brake system (BR-4 ), check for leaks and check the ABS speed sensor signal (DI-505 ).
More about «Rear axle shaft»:
Inspection