Toyota Land Cruiser

Owners Manual

When driving » Operating the lights and wipers

Headlight cleaner switch
Washer fluid can be sprayed on the headlights.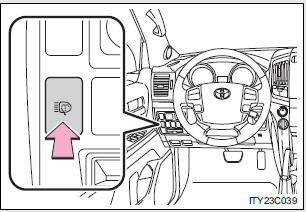 Press the switch to clean the headlights.
The headlight cleaner can be operated when
The "ENGINE START STOP" switch is in IGNITION ON mode and the headlight switch is turned on.
NOTICE
When the washer fluid tank is empty
Do not use this function when the washer fluid tank is empty. This may cause the washer fluid pump to overheat.
More about «Operating the lights and wipers»:
Headlight cleaner switch