Toyota Land Cruiser

Owners Manual

Before driving » Opening, closing and locking the doors

Wireless remote control
The wireless remote control can be used to lock and unlock the vehicle from outside the vehicle.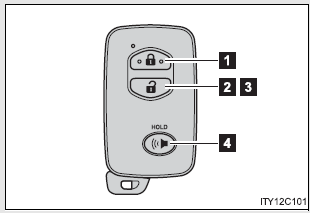 Locks all doors
Unlocks all doors
Pressing the button unlocks the driver's door. Pressing the button again within 3 seconds unlocks the other doors.
Opens the windows and moon roof (press and hold)*
Sounds alarm (press and hold)
*:This setting must be customized at your Toyota dealer.
Doors: A buzzer sounds and the emergency flashers flash to indicate that the doors have been locked/unlocked. (Locked: Once; Unlocked: Twice)
Windows and moon roof: A buzzer sounds when the windows and moon roof begin to open.
The wireless remote control will not operate when the "ENGINE START STOP" switch is in any position other than OFF.
If a door is not fully closed, a buzzer sounds continuously for 5 seconds if an attempt to lock the door is made. Fully close the door to stop the buzzer, and lock the vehicle once more.
Using the wireless remote control to lock the door will set the alarm system.
Electronic key battery depletion
If the wireless remote control does not operate properly
Locking and unlocking the doors: Use the mechanical key.
Starting the engine
When the electronic key battery is fully depleted
Conditions affecting operation
Customization
Settings (e.g. 2-step unlocking function) can be changed.
(Customizable features )
Certification for wireless remote control
FCC ID: HYQ14AEM
FCC ID: HYQ13BZS
FCC ID: HYQ14ABK*
FCC ID: HYQ13CZA*
*: For U.S. mainland only
NOTE
: This device complies with part 15 of the FCC Rules. Operation is subject to the following two conditions: (1) This device may not cause harmful interference, and (2) this device must accept any interference received, including interference that may cause undesired operation.
FCC
WARNING
: Changes or modifications not expressly approved by the party responsible for compliance could void the user's authority to operate the equipment.
More about «Opening, closing and locking the doors»:
Wireless remote control