Toyota Land Cruiser

Owners Manual

Interior features » Using the air conditioning system and defogger

Windshield wiper de-icer
This feature is used to prevent ice from building up on the windshield and wiper blades.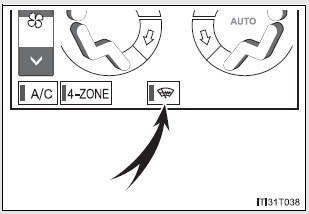 On/off
The windshield wiper de-icer will automatically turn off after approximately 15 minutes.
Pressing the switch again also turns the de-icer off.
Without navigation system
The windshield wiper de-icer can be operated when
The "ENGINE START STOP" switch is in IGNITION ON mode.
CAUTION
When the windshield wiper de-icer is on
Do not touch the glass at the lower part of the windshield or the side of the front pillars as the surfaces can become very hot and burn you.
More about «Using the air conditioning system and defogger»:
Windshield wiper de-icer