Buick Regal

2018-2022 Owners Manual

In Brief » Initial Drive Information

Stop/Start System
The vehicle may be equipped with a fuel saving Stop/Start system to shut off the engine and help conserve fuel.
When the brakes are applied and the vehicle is at a complete stop, the engine may turn off. When the brake pedal is released or the accelerator pedal is pushed, the engine will restart.
Remote Keyless Entry (RKE) System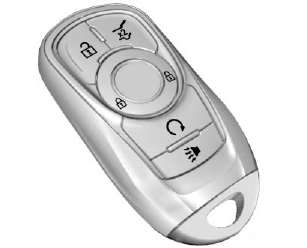 With Remote Start and Power Liftgate Shown
The Remote Keyless Entry (RKE) transmitter may work up to 60 m (197 ft) away from the vehicle.

: Press to unlock the driver door and the fuel door. Press again within five seconds to unlock all doors and the liftgate. The RKE transmitter can be programmed to unlock all doors on the first button press.

: Press to lock all doors, the fuel door, and the liftgate.

: Press and release one time to initiate the vehicle locator. The exterior lamps flash and the horn chirps three times.
Press and hold

for at least three seconds to sound the panic alarm. The horn sounds and the turn signals flash for about 30 seconds or until

is pressed again or the vehicle is started.

: If equipped, press and release

and then immediately press and hold

for at least four seconds to start the engine from outside the vehicle using the RKE transmitter.

: If equipped, press twice to open the liftgate.
Remote Vehicle Start
If equipped, the engine can be started from outside of the vehicle.
Starting the Vehicle
1. Press and release

on the RKE transmitter.
2. Immediately press and hold

for at least four seconds or until the turn signal lamps flash.
Start the vehicle normally after entering.
When the vehicle starts, the parking lamps will turn on.
Remote start can be extended.
Canceling a Remote Start
To cancel a remote start, do one of the following:
Press and hold until the parking lamps turn off.
Turn on the hazard warning flashers.
Turn the vehicle on and then off.
More about «Initial Drive Information»:
Stop/Start System