Toyota Land Cruiser

Service Manual

Cooling » Coolant

Replacement
1. DRAIN ENGINE COOLANT
(a) Remove the radiator cap.
CAUTION: To avoid the danger of being burned, do not remove the radiator cap while the engine and radiator are still hot, as fluid and steam can be blown out under pressure.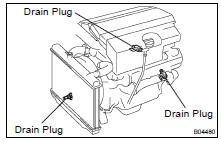 (b) Remove the 3 drain plugs on the engine and radiator, and drain the coolant.
(c) Close the 3 drain plugs.
Torque: 12.7 N·m (130 kgf·cm, 9 ft·lbf) for engine
2. REFILL WITH ENGINE COOLANT
(a) Slowly fill the system with coolant.
Capacity: w/ Front heater: 14.8 liters (15.6 US qts, 13.0 Imp. qts) w/ Front heater and rear heater: 15.3 liters (16.2 US qts, 13.4 Imp. qts)
NOTICE: Do not use plain water alone.
HINT:
Use of improper coolants may damage the engine cooling system.
Use "Toyota Super Long Life Coolant" or similar high quality ethylene glycol based non-silicate, non-amine, nonnitrite, and non-borate coolant with long-life hybrid organic acid technology.
New Toyota vehicles are filled with Toyota Super Long Life Coolant (color is pink, premixed ethylene glycol concentration is approximately 50 % and freezing temperature is -35C (-31F)). When replacing the coolant, Toyota Super long Life Coolant is recommended.
Observe the coolant level inside the radiator by pressing the inlet and outlet radiator hoses several times by hand.

if the coolant level goes down, add the coolant.

If the coolant level goes down, add the coolant.
(b) Install the radiator cap.
(c) Bleed the cooling system.
Start the engine, and open the heater water valve.
Maintain the engine speed at 2,000 - 2,500 rpm, and warm up the engine.
(d) Stop the engine, and wait until the engine coolant cools down.
(e) Refill coolant into the reservoir until it is "FULL".
3. CHECK FOR ENGINE COOLANT LEAKS
4. CHECK ENGINE COOLANT SPECIFIC GRAVITY CORRECTLY
More about «Coolant»:
Replacement