Toyota Land Cruiser

Service Manual

SFI » Front passenger airbag assembly

Removal
NOTICE:
If the wiring connector of the SRS is disconnected and the ignition switch is at ON position, DTCs will be recorded.
Never use the airbag parts from another vehicle.

When replacing parts, replace them with new parts.
1. DISCONNECT AIRBAG CONNECTOR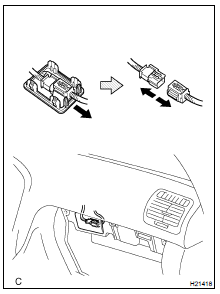 (a) Remove the glove compartment door.
(b) Remove the No. 1 under cover from the lower No. 2 finish panel.
NOTICE: When handling the airbag connector, take care not to damage the airbag wire harness.
(c) Pull up the connector.
(d) Disconnect the front passenger airbag connector.
2. REMOVE INSTRUMENT PANEL (BO-84 )
3. REMOVE CENTER BRACKET
4. REMOVE DEFROSTER NOZZLE ASSEMBLY
5. REMOVE NO. 5 HEATER TO REGISTER DUCT
6. REMOVE NO. 2 SIDE DEFROSTER NOZZLE DUCT
7. REMOVE FRONT PASSENGER AIRBAG ASSEMBLY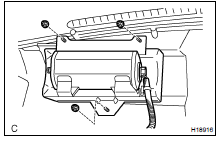 Remove the 3 nuts, then remove the front passenger airbag assembly.
CAUTION:
Do not store the front passenger airbag assembly with the airbag deployment side facing downward.
Never disassemble the front passenger airbag assembly.
More about «Front passenger airbag assembly»:
Removal