Toyota Land Cruiser

Service Manual

Air conditioning » Rear heater unit

Removal
1. DRAIN ENGINE COOLANT FROM RADIATOR
HINT: It is not necessary to drain out all the coolant.
2. DISCONNECT WATER HOSES FROM HEATER RADIATOR PIPES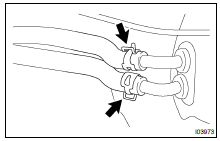 (a) Using pliers, grip the claws of the clip and slide the clip along the hose (b) Disconnect the water hoses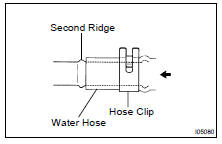 HINT: At the time of installation, push the water hose on to the heater radiator pipe to the second ridge on the pipe.
3. REMOVE FRONT SEATS
4. REMOVE REAR CONSOLE BOX
5. REMOVE FRONT CONSOLE BOX COVER
6. REMOVE LOWER CENTER CLUSTER FINISH PANEL
7. REMOVE FRONT DOOR SCUFF PLATE
8. REMOVE COWL SIDE TRIMS
9. REMOVE REAR DOOR SCUFF PLATES
10. REMOVE CENTER PILLAR GARNISHES
11. SLIDE FLOOR CARPET BACKWARD
12. REMOVE COOLER BRACKET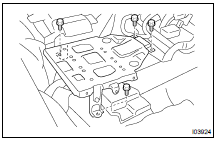 Remove the 4 bolts and the cooler bracket.
13. REMOVE REAR HEATER DUCT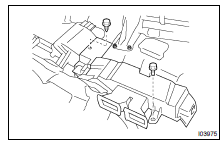 Remove the bolt, the screw and the rear heater duct.
14. REMOVE REAR HEATER UNIT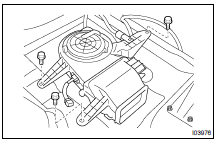 (a) Disconnect the connector.
(b) Remove the 3 bolts and the rear heater unit.
More about «Rear heater unit»:
Removal