Toyota Land Cruiser

Service Manual

Air conditioning » Front heater unit

Removal
1. DRAIN ENGINE COOLANT FROM RADIATOR
HINT: It is not necessary to drain out all coolant.
2. DISCONNECT WATER HOSES FROM HEATER RADIATOR PIPES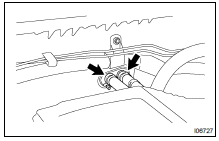 (a) Using pliers, grip the claws of the hose clip and slide the clip along the hose.
(b) Disconnect the water hoses from the heater radiator pipes.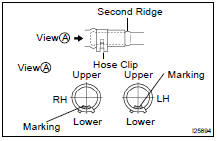 HINT: At the time of installation , please refer to the following items.
Push the water hose onto the heater radiator pipe to the second ridge on the pipe.
Install a hose clip in the position as shown in the illustration.
3. REMOVE INSTRUMENT PANEL AND REINFORCEMENT (BO-84 )
4. REMOVE FRONT COOLING UNIT (AC-24 )
5. REMOVE HEATER UNIT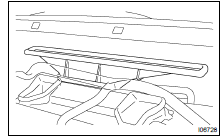 (a) Remove the lower defroster nozzle.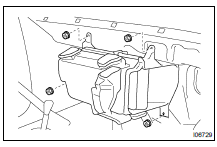 (b) Disconnect the connector.
(c) Remove the 4 nuts and heater unit.
More about «Front heater unit»:
Removal