Toyota Land Cruiser

Service Manual

Suspension & Axle » Differential locking system

Removal
1. SHIFTING REAR DIFF. LOCK POSITION
(a) Turn the ignition switch to the ON position.
(b) Shift the transfer shift lever to L position.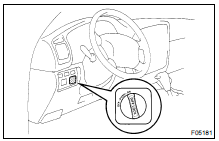 (c) Turn the differential lock control switch to the RR position and lock the rear differential.
HINT: While rotating the rear wheels, check they are in the differential lock condition.
(d) Disconnect the cable from the negative terminal of the battery.
2. REMOVE NO. 1 ACTUATOR PROTECTOR
Remove the nut, bolt and No. 1 actuator protector.
3. REMOVE NO. 2 ACTUATOR PROTECTOR
Remove the 2 nuts and No. 2 actuator protector.
4. DISCONNECT CONNECTORS AND TUBE
5. REMOVE REAR DIFF. LOCK POSITION SWITCH
6. REMOVE COVER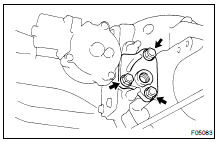 (a) Remove the 3 bolts.
(b) Using a brass bar and hammer, remove the cover.
7. REMOVE ACTUATOR
(a) Remove the shift fork set bolt.
(b) Remove the 4 bolts.
(c) Using a screwdriver, pry out the actuator.
More about «Differential locking system»:
Removal