Toyota Land Cruiser

Service Manual

Brake » Disassembly

Removal
1. DISCONNECT FLEXIBLE HOSE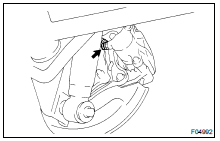 Remove the union bolt and gasket from the caliper, then disconnect the flexible hose from the caliper. Use a container to catch brake fluid as it drains out.
Torque: 30 N·m (310 kgf·cm, 22 ft·lbf)
HINT: At the time of installation, please refer to the following item.
Install the flexible hose lock securely in the lock hole in the caliper.
2. REMOVE CALIPER
(a) Hold the sliding pin and loosen the 2 installation bolts.
Torque: 26 N·m (270 kgf·cm, 20 ft·lbf)
(b) Remove the 2 installation bolts.
(c) Remove the caliper from the torque plate.
3. REMOVE 2 BRAKE PADS WITH ANTI- SQUEAL SHIMS
4. REMOVE 4 PAD SUPPORT PLATES
More about «Disassembly»:
Removal