Toyota Land Cruiser

Service Manual

Brake » Front brake caliper

Removal
1. REMOVE FRONT WHEEL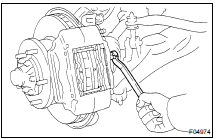 Torque: 103 N·m (1,050 kgf·cm, 76 ft·lbf)
2. DISCONNECT BRAKE LINE
(a) Remove the union bolt and 2 gaskets from the caliper, then disconnect the flexible hose from the caliper.
Torque: 30 N·m (310 kgf·cm, 22 ft·lbf)
(b) Use a container to catch the brake fluid as it drains out.
3. REMOVE CALIPER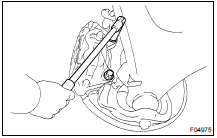 Remove the 2 mounting bolts and remove the caliper.
Torque: 123 N·m (1,250 kgf·cm, 90 ft·lbf)
4. REMOVE CLIP AND 2 PINS
5. REMOVE 2 PAD RETAINER CLIPS
6. REMOVE 2 PADS, ANTI-SQUEAL SHIMS AND PAD RETAINERS
More about «Front brake caliper»:
Removal