Toyota Land Cruiser

Service Manual

Automatic Transmission » Floor shift assembly

Removal
1. REMOVE TRANSFER SHIFT LEVER KNOB
2. REMOVE UPPER CONSOLE PANEL ( BO-84 )
3. SEPARATE NO. 1 FLOOR SHIFT GEAR SHIFTING ROD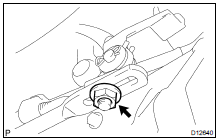 (a) Shift into the N position.
(b) Remove the nut and separate the No. 1 floor shift gear shifting rod from the connecting rod swivel
4. REMOVE FLOOR SHIFT LEVER ASSEMBLY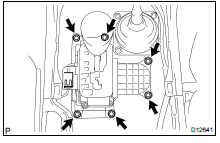 (a) Disconnect the connector.
(b) Remove the 6 bolts.
Torque: 8.3 N·m (85 kgf·cm, 73 in.·lbf)
(c) Remove the floor shift lever assembly.
More about «Floor shift assembly»:
Removal