Toyota Land Cruiser

Service Manual

Brake » Parking brake

Reassembly
Reassembly is in the reverse order of disassembly ( BR-34 ).
HINT: Apply high temperature grease and lithium soap base glycol grease to the parts indicated by the arrows ( BR-33 ).
1. ADJUST PARKING BRAKE SHOE CLEARANCE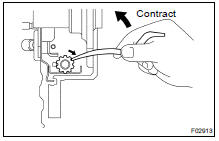 (a) Disconnect the parking brake cable from the bellcrank.
(b) Remove the 2 bellcrank tension springs.
(c) Loosen the bellcrank adjusting bolt.
(d) Temporarily install the 3 hub nuts.
(e) Remove the hole plug.
(f) Turn the adjuster and expand the shoes until the disc locks.
(g) Return the adjuster 8 notches.
(h) Install the hole plug.
2. ADJUST BELLCRANK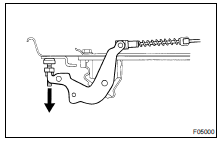 (a) Pull the bellcrank until all play in the interior linkage is taken up.
(b) Screw in the bellcrank adjusting bolt to where it contacts on the dust seal.
(c) Loosen it one turn, and lock it at that position with the lock nut.
Torque: 5.4 N·m (55 kgf·cm, 48 in.·lbf)
(d) Install the 2 bellcrank tension springs.
(e) Connect the parking brake cable.
(f) Remove the 3 hub nuts.
3. SETTLING PARKING BRAKE SHOES AND DISC
(a) Drive the vehicle at about 50 km/h (31 mph) on a safe, level and dry road.
(b) With the parking brake release button pushed in, pull on the lever with 88 N (9 kgf, 19.8 lbf) of force.
(c) Drive the vehicle for about 400 meters (0.25 mile) in this condition.
(d) Repeat this procedure 2 or 3 times.
4. RECHECK AND ADJUST PARKING BRAKE LEVER TRAVEL ( BR-14 )
More about «Parking brake»:
Reassembly