Toyota Land Cruiser

Service Manual

Air conditioning

Rear heater relay
INSPECTION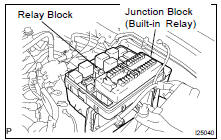 HINT: The rear heater relay is built in the engine room junction block.
Since the relay is constructed with a relay block that is in the junction block as a unit, it is impossible to disconnect the wire harness connecting with the relay block.
If the relay has a malfunction, replace it with the junction block assembly wire harness together.
1. REMOVE ENGINE ROOM J/B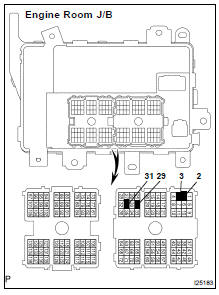 2. INSPECT REAR HEATER RELAY CONTINUITY

If continuity is not as specified, replace the engine room J/B.
3. INSTALL ENGINE ROOM J/B
More about «Air conditioning»:
Rear heater relay