Toyota Land Cruiser

Owners Manual

Interior features » Using the Bluetooth® audio system

Operating a Bluetooth® enabled portable player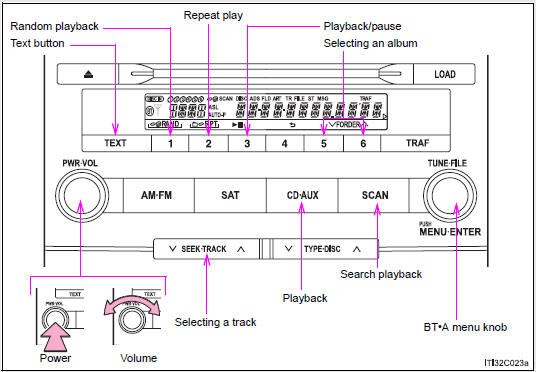 Selecting an album
To select the desired album, press

(∨) or

(∧).
Selecting tracks
Press "∧" or "∨" on

to select the desired track.
Playing and pausing tracks
To play or pause a track, press

(

).
Fast-forwarding and rewinding tracks
To fast-forward or rewind, press and hold "∧" or "∨" on

until you hear a beep.
Random playback
Press

(RAND).
To cancel, press

(RAND) again.
Repeat play
Press

(RPT).
To cancel, press

(RPT) again.
Scanning tracks
Press

.
To cancel, press

again.
Switching the display
Press

.
Each time the button is pressed, the display changes in the following order: Elapsed time → Album title → Track title → Artist name
Using the steering wheel audio switches
Bluetooth® audio system functions
Depending on the portable player that is connected to the system, certain functions may not be available.
"Memory Error": This indicates a problem in the system.
More about «Using the Bluetooth® audio system»:
Operating a Bluetooth® enabled portable player