Toyota Land Cruiser

Service Manual

Air conditioning » Pressure switch

On-vehicle inspection
1. SET VEHICLE IN THESE CONDITION
(a) Engine speed at 1,500 rpm (b) Blower speed control switch at "HI" position (c) Temperature control dial at "MAX. COOL" position (d) Manifold gauge set setting
2. INSPECT PRESSURE SWITCH OPERATION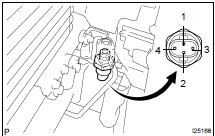 (a) Disconnect the connector.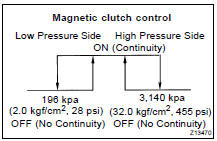 (b) Inspect pressure switch continuity (Magnetic Clutch Control)
Connect the positive (+) lead from the ohmmeter to terminal 1 and the negative (-) lead to terminal 2.
Check continuity between terminals when the refrigerant pressure is changed, as shown in the illustration.
If continuity is not as specified, replace the pressure switch.
More about «Pressure switch»:
On-vehicle inspection