Toyota Land Cruiser

Service Manual

Air conditioning ╗ Drive belt

On-vehicle inspection
1. INSPECT DRIVE BELT'S INSTALLATION CONDITION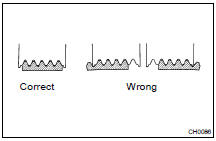 Check that drive belt fits properly in the ribbed grooves.
2. INSPECT DRIVE BELT TENSION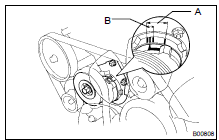 Check that the tension is within A range on the auto tensioner scale.
If the tension is not within the A range on the scale, replace the belt with a new one.
HINT: When replacing the drive belt with a new one, the belt's tension should be within the B range on the belt tensioner scale.
More about źDrive belt╗:
On-vehicle inspection