Toyota Land Cruiser

Service Manual

Cooling » Radiator

On-vehicle cleaning
INSPECT FINS FOR BLOCKAGE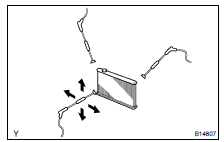 If fins are clogged, wash them with water or a steam cleaner and dry with compressed air.
NOTICE:
If the distance between the steam cleaner and the core is too close, there is a possibility of damaging the fin, so keep the following injection distance.

If the fins are bent, straighten them with a screwdriver or pliers.
Never apply water directly onto the electronic components.
More about «Radiator»:
On-vehicle cleaning