Toyota Land Cruiser

Service Manual

Lubrication » Oil cooler

Installation
1. INSTALL OIL COOLER
(a) Clean the oil cooler contact surface on the cooler mounting.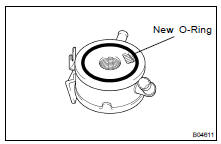 (b) Install a new O-ring to the oil cooler.
(c) Apply a light coat of engine oil on the threads and under the head of the union bolt.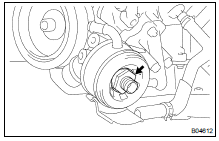 (d) Install the plate washer and union bolt.
Torque: 68.6 N·m (700 kgf·cm, 51 ft·lbf)
(e) Connect the 2 oil cooler hoses to the oil cooler.
2. INSTALL OIL FILTER (LU-2 )
3. FILL WITH ENGINE COOLANT
4. START ENGINE AND CHECK FOR ENGINE OIL LEAKS
5. CHECK ENGINE OIL LEVEL
More about «Oil cooler»:
Installation