Toyota Land Cruiser

Service Manual

SFI » Airbag sensor assembly

Installation
NOTICE:
Never use SRS parts from another vehicle. When replacing parts, replace them with new parts.
Never reuse the airbag sensor assembly involved in a collision when the airbag has deployed.
Never repair a sensor in order to reuse it.
HINT: For step 2 to 6, refer to page BO-91 .
1. INSTALL AIRBAG SENSOR ASSEMBLY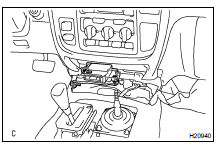 (a) Install the airbag sensor assembly with the 3 bolts.
Torque: 17.5 N·m (178 kgf·cm, 13 ft·lbf)
(b) Connect the airbag sensor connectors.
NOTICE:
Connection of the connector is done after the sensor assembly has been installed.
Make sure the sensor assembly is installed with the specified torque.
If the sensor assembly has been dropped, or there are cracks, dents or other defects in the case, bracket or connector, replace the sensor assembly with a new one.
When installing the sensor assembly, take care that the SRS wiring does not interfere with other parts and is not pinched between other parts.
After installing, shake the sensor assembly to check that there is no looseness.
2. INSTALL CENTER LOWER INSTRUMENT CLUSTER FINISH PANEL ASSEMBLY
3. INSTALL FRONT CONSOLE BOX
4. INSTALL REAR CONSOLE BOX WITH CONSOLE REAR END PANEL
5. INSTALL UPPER CONSOLE PANEL
6. INSTALL TRANSFER SHIFT LEVER KNOB
7. INSTALL FRONT SEAT (BO-1 17)
8. INSPECT SRS WARNING LIGHT (DI-692 )
More about «Airbag sensor assembly»:
Installation