Toyota Land Cruiser

Service Manual

Body Mechanical » Rear wiper and washer

Installation
1. INSTALL REAR WIPER MOTOR AND LINK ASSEMBLY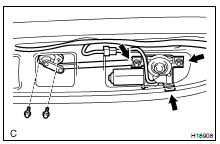 (a) Install the wiper motor and link assembly with 5 bolts.
Torque: 5.4 N·m (55 kgf·cm, 48 in.·lbf)
(b) Connect the connector.
2. INSTALL BACK DOOR GARNISH
3. INSTALL CENTER BACK DOOR GARNISH
4. INSTALL INSIDE HANDLE BEZEL
5. INSTALL ASSIST GRIP
Install the assist grip with the 2 screws, then install the 2 assist grip plugs.
6. INSTALL REAR WIPER ARM
(a) Install the grommet.
(b) Operate the wiper once and turn the wiper switch OFF.
(c) Install the wiper arm and tighten the nut by hand.
(d) Adjust the installation position of the wiper arm to the position as shown in the illustration.
A: Approx. 38 +- 10 mm (1.50 +- 0.39 in.)
(e) Torque the nut.
Torque: 5.4 N·m (55 kgf·cm, 48 in.·lbf)
(f) Close the cover.
More about «Rear wiper and washer»:
Installation