Toyota Land Cruiser

Service Manual

Body Mechanical » Front wiper and washer

Installation
1. INSTALL WASHER NOZZLES
2. INSTALL WIPER LINK
Install the wiper link through the service hole, then torque the 6 bolts.
Torque: 5.4 N·m (55 kgf·cm, 48 in.·lbf)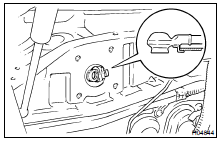 HINT: When installing the wiper link, connect the claw of wiper link to the panel.
3. INSTALL WIPER MOTOR
(a) Connect the wiper motor to wiper link.
(b) Torque the 4 bolts.
(c) Connect the connector.
4. INSTALL COWL TOP VENTILATOR LOUVERS
(a) Install the cowl top ventilator louver LH.
(b) Install the cowl top ventilator louver RH.
5. INSTALL HOOD TO COWL TOP SEAL
6. INSTALL WIPER ARMS
(a) Operate the wipers once and turn the wiper switch OFF.
(b) Install the wiper arms and tighten nuts by hand.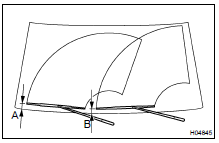 (c) Adjust the installation position of the wiper arms to the positions shown in the illustration.
A: Approx. 40 mm (1.57 in.) B: Approx. 16 - 26 mm (0.63 - 1.02 in.)
(d) Torque the nuts.
Torque: 20 N·m (204 kgf·cm, 15 ft·lbf)
(e) Install the wiper arm caps.
More about «Front wiper and washer»:
Installation