Toyota Land Cruiser

Service Manual

Suspension & Axle » Front upper suspension ARM

Inspection
INSPECT UPPER SUSPENSION ARM BALL JOINT FOR ROTATION CONDITION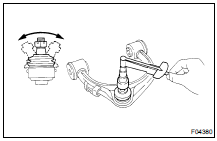 (a) As shown in the illustration, flip the ball joint stud back and forth 5 times, before installing the nut.
(b) Using a torque wrench, turn the nut continuously one turn per 3 - 5 seconds and take the torque reading on the 5th turn.
Turning torque: 1.0 - 4.4 N·m (10 - 45 kgf·cm, 8.9 - 39 in.·lbf)
INSTALLATION
Installation is in the reverse order of removal (SA-70 ).
HINT: After installation, check the front wheel alignment (SA-6 ).
More about «Front upper suspension ARM»:
Inspection