Toyota Land Cruiser

Service Manual

Propeller Shaft » Propeller shaft assembly

Inspection
NOTICE: Be careful not to grip the propeller shaft tube too tightly in a vise as this will cause deformation.
1. INSPECT FRONT AND REAR PROPELLER SHAFTS FOR DAMAGE OR RUNOUT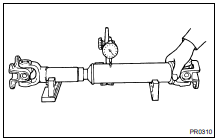 Using a dial indicator, check the runout of shafts.
Maximum runout: 0.8 mm (0.031 in.)
If shaft runout is greater than maximum, replace the shaft.
2. INSPECT SPIDER BEARING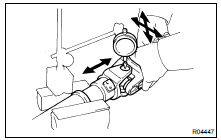 (a) Check the spider bearings for wear or damage.
(b) Check the spider bearing axial play by turning the yoke with holding the shaft tightly.
Maximum bearing axial play: 0 mm (0 in.)
If necessary, replace the spider bearing.
INSTALLATION
Installation is in the reverse order of removal ( PR-4 ).
HINT: After installation, pump MP grease into each fitting with a grease gun until the grease begins to flow around the oil seal.
More about «Propeller shaft assembly»:
Inspection