Toyota Land Cruiser

Owners Manual

When trouble arises » Essential information

Emergency flashers
The emergency flashers are used to warn other drivers when the vehicle has to be stopped in the road due to a breakdown, etc.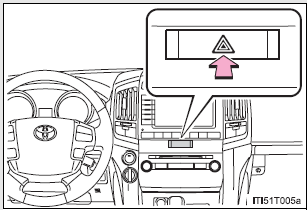 Press the switch.
All the turn signal lights will flash.
To turn them off, press the switch once again.
If the emergency flashers are used for a long time while the engine is not operation, the battery may discharge.
More about «Essential information»:
Emergency flashers